About Us
The mission of Concord Makerspace is….
To develop a safe, fun, and collaborative environment supporting makers of all ages and skillsets coming together to teach, learn, create, explore, and prosper. We are creating a strong and sustainable organization that contributes to Concord's regional economy and builds a more vibrant community.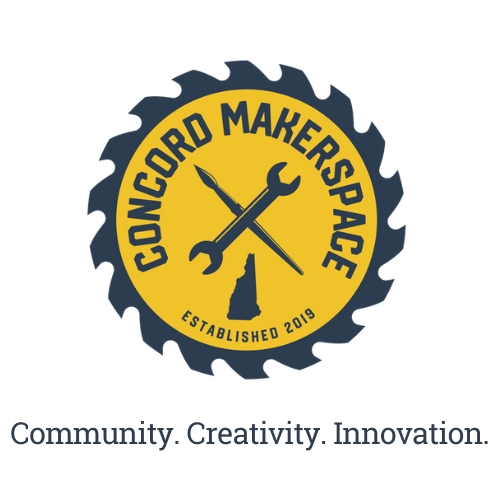 A makerspace is a shared shop where local makers who sign up as members get access to tools they otherwise couldn't afford or house. It is also the center of a creative community that prides itself on resourcefulness and a can-do attitude. Makers can feel at home in a place where they can learn, grow, and pass their knowledge on to up-and-coming makers. For pricing and to become a member, see https://www.concordmakerspace.org/join/
We have consolidated standing working space to only our woodworking and prototyping shops in our current location in Boscawen. This is in response to member demands. There is storage access in the space to electronics and some textile equipment. With future expansion, we hope to take some of our other shops, like metalworking, out of inaccessible storage. While also expanding to have more room for programming and member rental space. We are currently focusing on growing our member base and community to justify the larger space! For member hours or arranging a tour of our makerpsace, see Member Hours and Tours of the space.